At the Market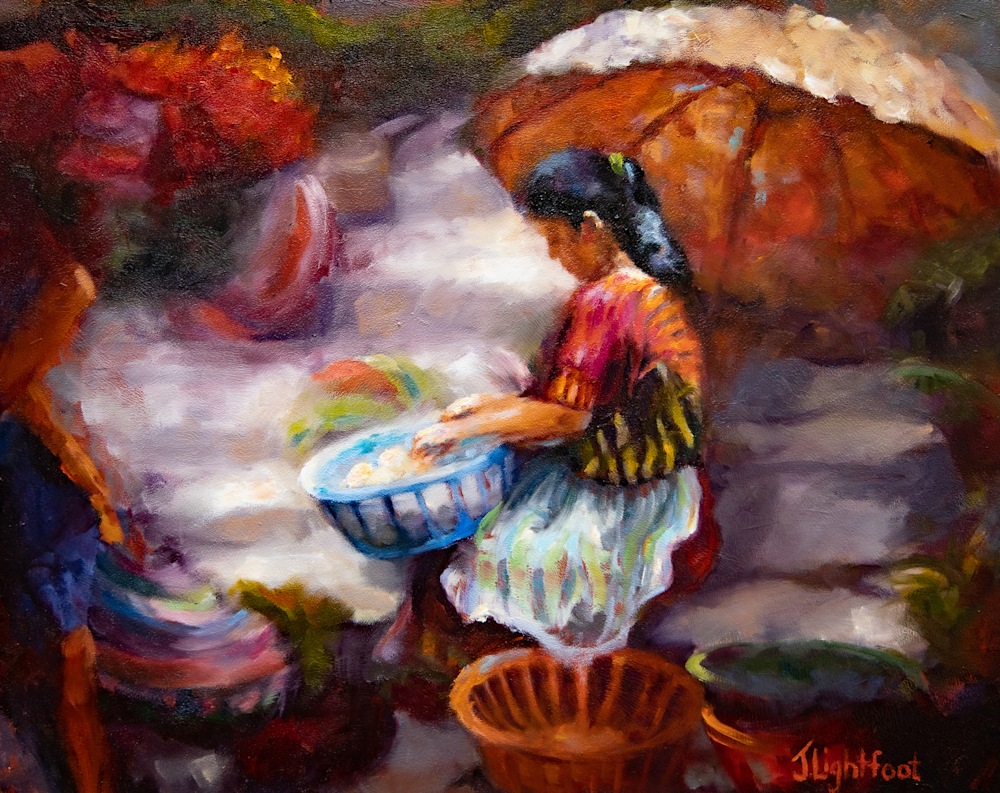 At the Market, 16 x 20, Oil Painting, was inspired by a recent trip to Guatemala.
Sixteen years ago, we brought home a beautiful baby boy from Guatemala. Our journey to adopt him and the struggles that were involved is another story. Today is the story of taking our sixteen-year-old son back to Antigua, Guatemala, the town he was born in.

If you follow along on Facebook, then you have seen photos from the trip. It was a combination of adventure, cultural immersions, relaxation, and discovering my son's roots.

Guatemala is a lush, tropical, and colorful country.
I love seeing the architecture and landscape and learning about its war-torn history. Mostly, I loved sitting back and watching the people. It is an impoverished country with around 60 percent living below poverty. One of the things that I learned is that we are all just trying our best with what we have. We try to love our kids and provide for them, enjoy our relationships with others, and smile when we can.
Of course, the best part of this trip was sharing it all with Luke. Just by chance, we meet a group of other adopted kids from Guatemala. They were on a group trip and staying at our hotel. Most of the families where East Coast/Midwest, but all of the kids in ages 12 to 20 were adopted from GUA. Luke said that hanging out with all of them was a highlight of the trip.


Really, everyone we meet was so open and warm to Luke and us. We did not find his birthmother on this trip but have plans to start a search for her. And we all got tattoos of Luke's Mayan birth symbol. We love you, Luke, and will forever treasure the people of Guatemala. It is such a beautiful country with beautiful people.